"Tracy Kaufman is a compelling young performer with a beautiful and distinctive-sounding mezzo-soprano voice." 
Tracy Kaufman, a native of Edison, New Jersey, is a consummate and captivating artist
who possesses a Dramatic Mezzo voice often described as "distinctive in color and beauty",
"capable of impressive flexibility and range", and "an instrument of t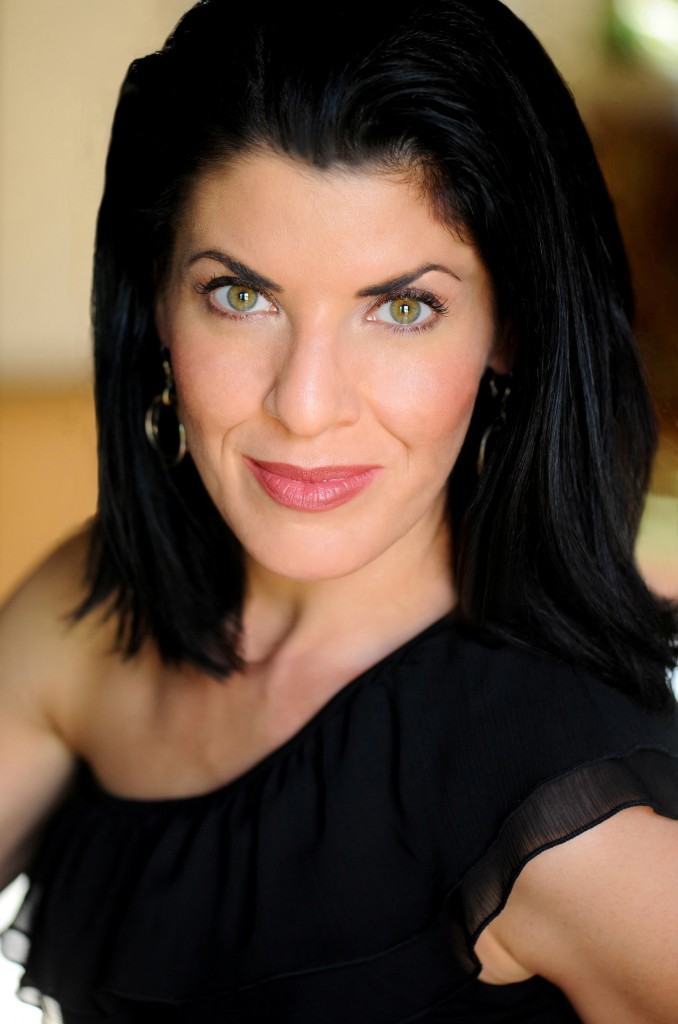 rue Italianate verismo nature".  Growing up in a family of "parlor musicians", some of her earliest memories are comprised of sitting next to her mother on the piano bench singing songs from the early 20th century, movie musicals, and musical theatre.  There was always an innate love for the stage, but it wasn't until several years later that classical music entered the realm of her experience.  Ms. Kaufman has since delighted audiences across the US, Canada, Italy, and Germany with diverse repertoire on the operatic and concert stages spanning the cabaret, jazz, and musical theatre realms as well.
Recent engagements have included appearances with the Colorado Symphony Orchestra as Eulalie Shinn in The Music Man, under the direction of Bob Neu and baton of Christopher Dragon, in original concerts and outreach productions with Central City Opera Ensemble, as guest soloist with the Colorado Repertory Singers, and as The Baroness in Vanessa with Boulder Opera.  Ms. Kaufman also enjoys originating roles in new operatic works, as she did for the role of Louise Crane in the premiere of The Gentle Lark of New Rochelle; Celebrating the Life of Ellabelle Davis for New Rochelle Opera Company, and will do so again this summer as Samira in The Price of Pomegranates at the Writing the Rockies conference in Gunnison, Colorado.  This past season has also brought additions of oratorio works to her repertoire singing the Alto solos for Mass in Honor of Saint Augustine by Romualdo Sapio in Denver and the Mezzo/Alto solos in the Oratorio de Noël of Camille Saint-Saëns in Rapid City, South Dakota.
A return engagement with the Edison Symphony Orchestra and Swing Orchestra, interpreting musical theatre and jazz standard favorites, provided the vehicle for another recent success.  This followed a concert appearance for the inaugural gala of the Ralph Opera Center at Colorado State University.  There, Ms. Kaufman once again shared the stage with Metropolitan Opera singers, Charles Edwin Taylor and Cynthia Lawrence after bowing with them for the Opera Fort Collins production of Cavalleria Rusticana.  Previous collaborations were enjoyed with such companies as Opera New Jersey, Light Opera of Oklahoma, Fort Collins Symphony, Natchez Opera, Liederkranz Opera, State Repertory Opera of New Jersey, Amato Opera, New York Vocal Arts Ensemble, and Goliard Concerts.
As a versatile singing actor, Ms. Kaufman has received worthy praise for performances in the recital, musical theatre, and theatrical arenas.  Her love of connecting with large and intimate audiences alike is shared through innovative recital programming, where a memorial benefit concert, A Classical Cabaret: Love, Life, and Laughter, received such praise; "I was so moved and delighted by her amazing performance.  Her radiance, talent and embodiment of the music … was breathtaking."  The Courier (New Jersey) praised her work as Kathy Selden in Singin' in the Rain; "Kaufman's voice is true and pure, … [is a] remarkable tap dancer and [did] justice to the demanding choreography."  For her performance as Tuptim, the reviewer was "utterly captivated by [her] performance in The King and I tonight.  Beautifully played and sung impeccably."  And Stacy Nick of the Coloradoan writes, "Tracy Kaufman (better known to the community as a performer with Opera Fort Collins) uses her glorious voice to bring drama to her every utterance as Mrs. Hardcastle [in She Stoops to Conquer]."
In addition to stage work, public masterclasses and private coachings have offered Ms. Kaufman the opportunity to work with such distinguished music professionals as Giovanni Reggioli, Alexander Frey, Carol Blaickner-Mayo, Russell Ryan, Joseph Marcheso, James Bagwell, Daniel Ferro, Jerome Hines, Sharon Sweet, Jane Bunnell, Bill Fabris, David Grabarkewitz, Dan Saunders, Jane Klaviter, Ashley Putnam, Michael Recchiutti, Patrick Visseq, Anthony Amato, Will Graham, Millard Altman, and Michael Cordovana.  She was fortunate to perform under the baton of Maestro Daniel Beckwith and the direction of Marc Verzatt as Nancy in Albert Herring about which the Princeton Town Topics noted, "Tracy Kaufman, …always had good control over the dynamics and drama of the scene, as well as the music."  She is currently a student of Carol Kirkpatrick.
Ms. Kaufman holds a Master of Music degree from Colorado State University, graduating summa cum laude, and a Music Bachelor degree in Voice Performance and Music Education, magna cum laude, from Boston University.  She resides in Denver, Colorado where she maintains an active voice studio, working both in person and online.